What Are Blue Light Glasses?
Discover how blue light affects our eyes and dive into how blue light glasses work.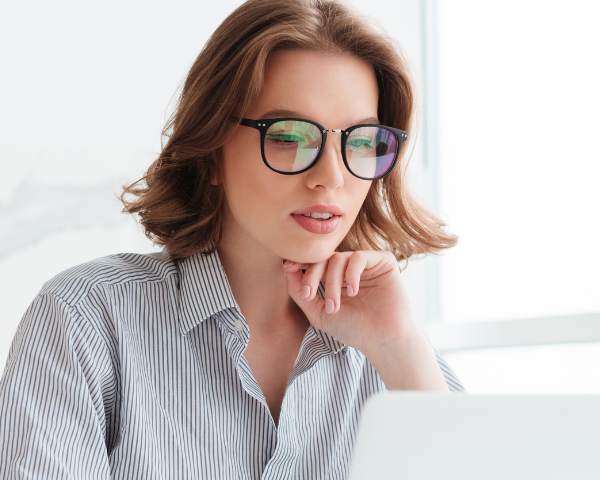 Disclaimer: Blue light glasses are intended to benefit individuals who spend long hours in front of digital screens or are exposed to artificial blue light sources. However, it's important to note that the scientific evidence supporting these benefits is still evolving, and individual experiences may vary.
Have you ever finished your gaming session or work day with tired and irritated eyes?
In today's digital era, our lives are intricately intertwined with screens, from smartphones and laptops to tablets and e-readers.
As we navigate this digital landscape, we often overlook the potential implications of prolonged screen exposure on our eye health and overall well-being.
That's where blue light-blocking glasses step in, offering a potential solution to the problems caused by blue light emitted from digital devices.
Blue light refers to a specific range of electromagnetic radiation within the visible light spectrum.
Blue light rays are at the high end of the visible light spectrum and have the shortest yet most powerful wavelength (380-460nm).
Blue light waves are the closest to invisible waves and ultraviolet rays, which are known to be the most dangerous of all light waves.
Because of its higher energy, blue light is more likely to scatter in the atmosphere, which is why the sky appears blue during the day.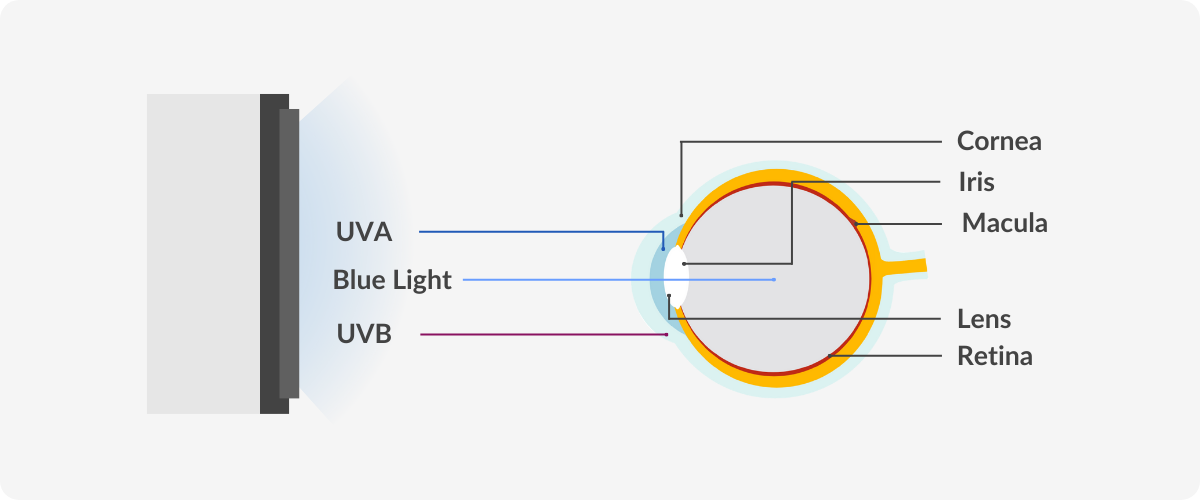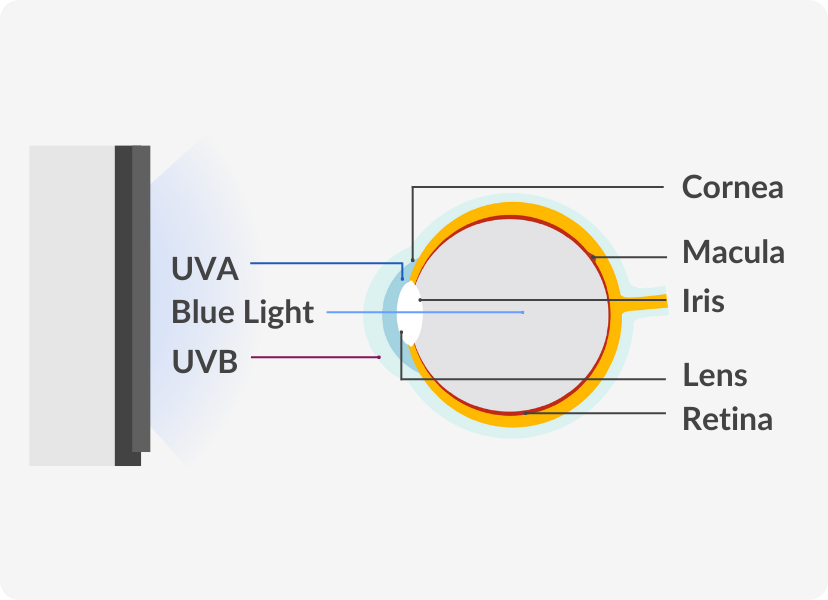 So is blue light harmful?
It's important to note that not all blue light is harmful. Blue light is present naturally in sunlight (largest source of blue light) and plays a crucial role in regulating our circadian rhythms.
The primary concern arises from excessive exposure to artificial sources of blue light, particularly from digital devices, LED lighting and energy-efficient light bulbs. 
Therefore, it is best to be safe and protect your eyes from blue light with a pair of blue light-blocking glasses.
The purpose of blue light glasses
The primary purpose of blue light-blocking glasses is to reduce digital eye strain and discomfort caused by digital devices (that emit blue light).
When we spend long hours in front of computers, smartphones, tablets or other electronic screens, we expose our eyes to higher levels of blue light than what they would naturally encounter from daylight.
Symptoms of digital eye strain (also known as computer vision syndrome) may include eye fatigue, dry eye syndrome, blurry vision, headaches, discomfort in the neck and shoulders and difficulty falling asleep. 
Blue light-blocking glasses work by selectively blocking or filtering out a portion of the blue light spectrum, aiming to reduce these potential negative effects.
By wearing blue light-filtering glasses, some individuals report experiencing less eye strain and improved comfort while using a digital device for extended periods.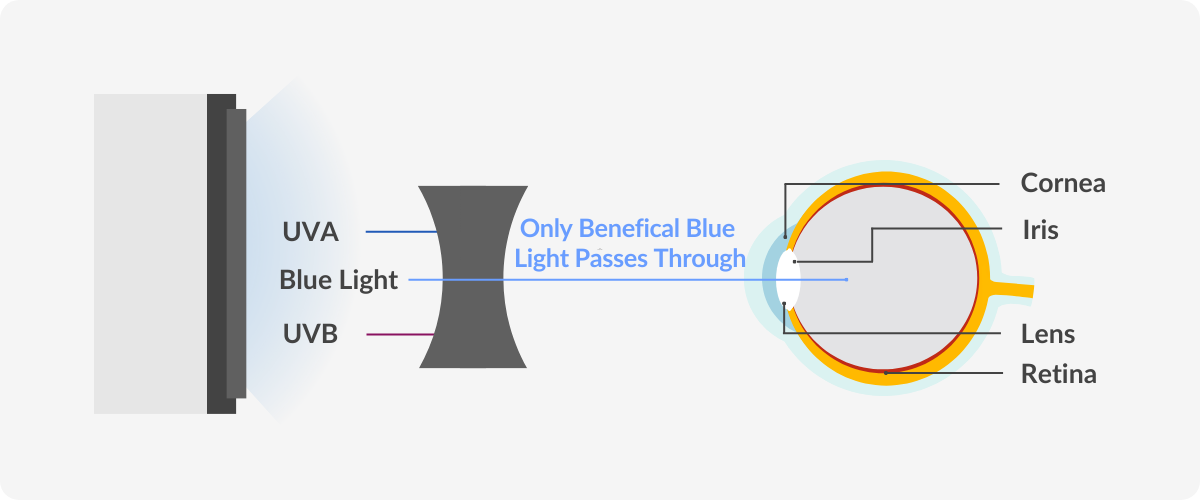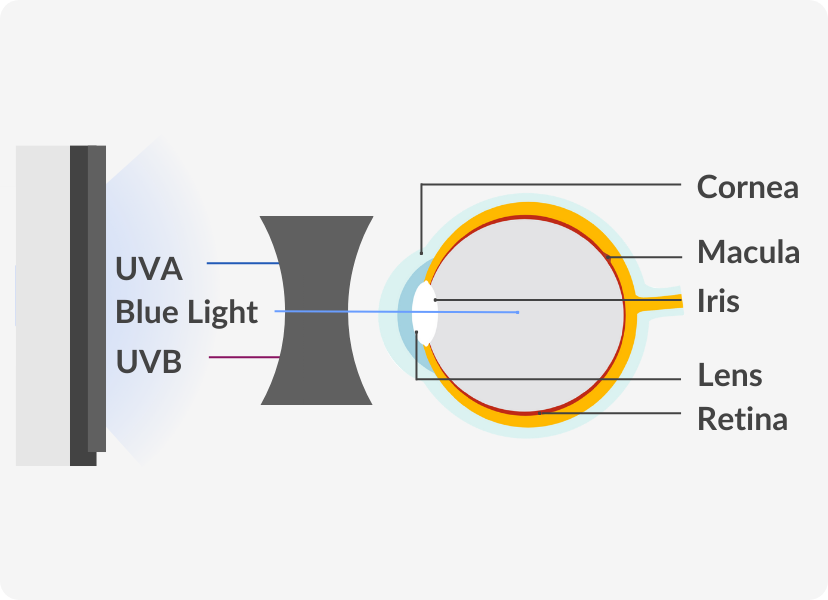 The most common symptoms of the negative effects of blue light are: eye fatigue, dry eyes, blurry vision, headaches and discomfort in the neck and shoulders.
What are the benefits of blue light glasses?
Potential retinal protection
Minimised risk of macular degeneration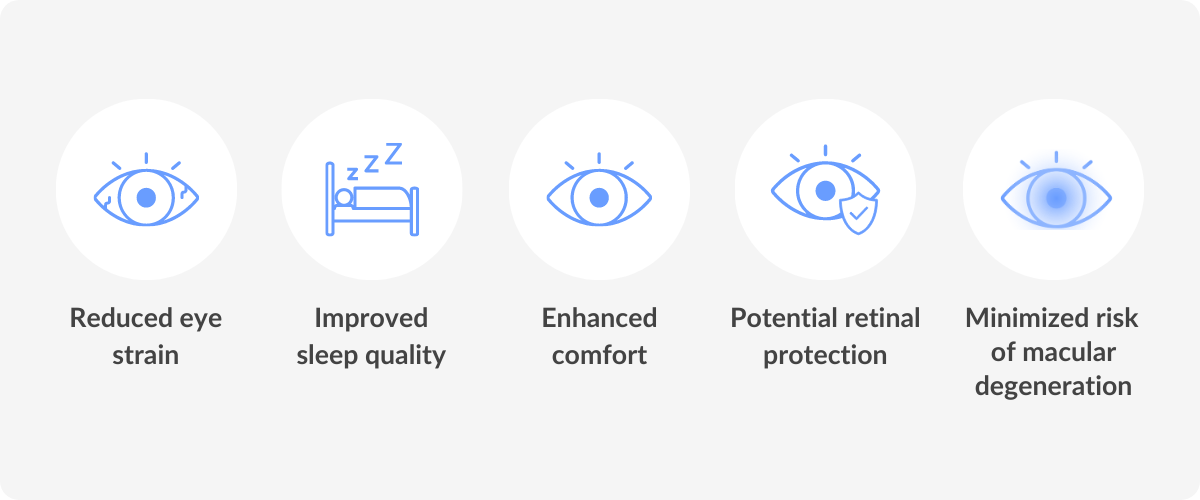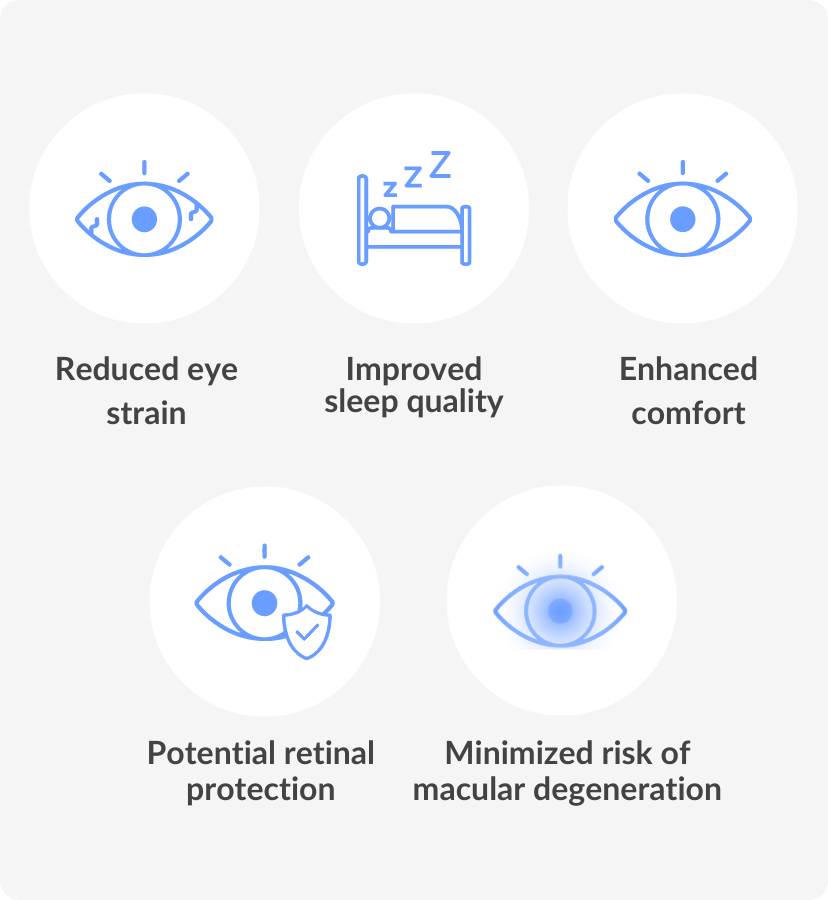 When should you use blue light glasses?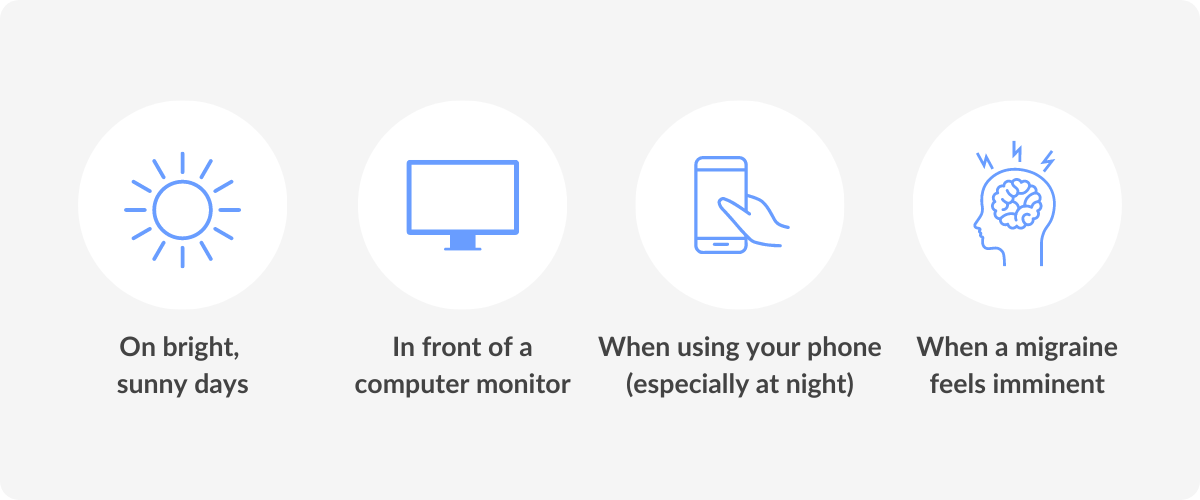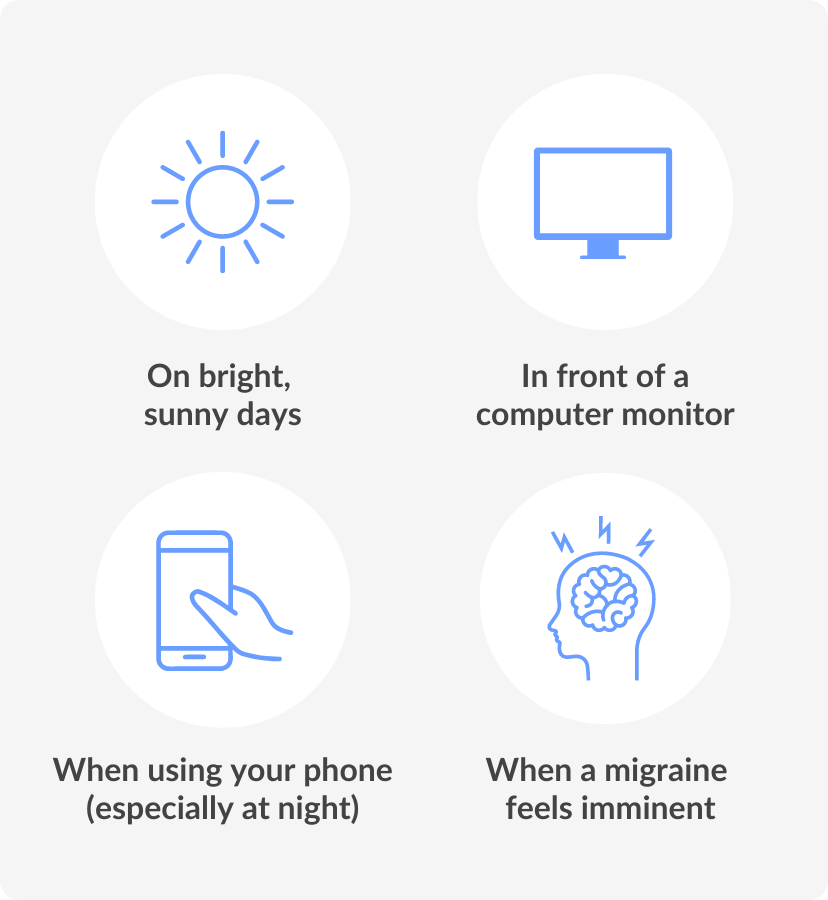 Are blue light glasses really necessary?
Related articles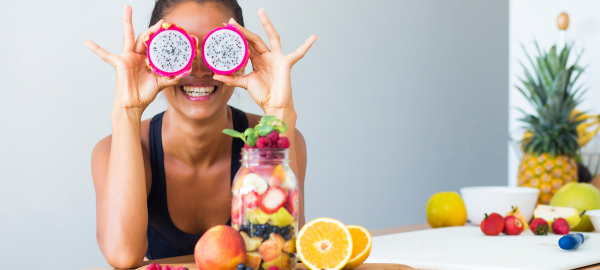 Vitamins for Eyes
Find out which vitamins and minerals play a role in maintaining good eye health.
View more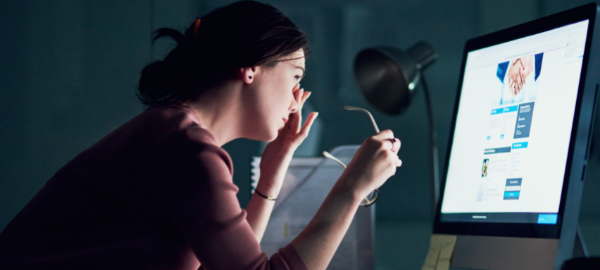 Digital Eye Strain
If you're using digital screens for long periods of time, you could be suffering from digital eye strain. Learn what...
View more